Leaving 18th of April for Giampilieri on the island of Sicily to be at Trasformatorio 2018.
A TUTTI I MUSICISTI
In occasione di Trasformatorio 2018, sto lavorando ad un'Orchestra per Giampilieri. Vuolo suonare storie, persone, cose, decorazioni e matterelli arrivando a scrivere una partitura per Orchestra e alcuni soli. L'Orchestra è aperta a tutti, spero che i musicisti possano accogliere questa sfida collaborativa.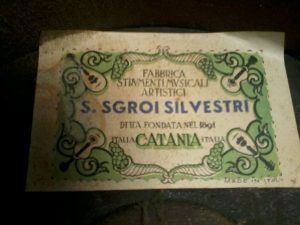 Bringing with me
The SIR, Scorographer In Residence, a beautiful suitcase to help create scores on the spot (thanks to landscape labs).          An old Silvestri guitar, once built in Catania (I hope to restore in time..).
My stravigor and lino cutting tools.
Asking
People to form with me a Sicilian Instant Printers/Composers Orchestra by bringing:
themselves, their stories, voices, hands and ears, suggestions for places around, old and new songs, old an new instruments (mandolino, violino, tamburello, electric guitar?), scrap pieces of old linoleum kitchen floors and the matterello (the pastry roll, to help printing…).
Hoping to (co-)write, draw, and print a beautiful partitura grafica for the orchestra and some solopieces by the SIR,
and play!
Want to join? Please contact me