the descent, voor sopraan, marimba, altfluit en basklarinet
op een gedicht van William Carlos Williams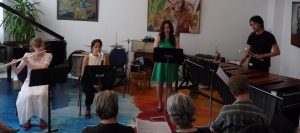 The descent is voor instrumenten die, of ze nu gelijktijdig klinken of niet, altijd een zekere mate van geïsoleerdheid behouden. De partijen raken elkaar door een zelfde textuur, door kleine stukjes uit elkaars materiaal te gebruiken. Ik maak het stuk in 2015 af, en ben erg blij als ik een eerste proefversie (met alleen mezelf en Che Sheng Wu op marimba) uitprobeer: het werkt! 

(lofi-)opname van uitvoering bij eindexamen compositie in Zwolle, 2015.
the descent
Jasmine Florence Munns: sopraan, Che Sheng Wu: marimba, Desirée Riera Cebrián: klarinet en Joline Bos: fluit.
sibelius sound file
the descent (sibelius)