……Met Vincenzo, mijn gerepareerde marktplaatsgitaar, en Monteverdi, Dylan Thomas en Cornelius Cardew in mijn achterhoofd kwam ik op Sicilië aan. Tien jaar geleden stroomde hier de modder van de berg en doodde een groot aantal mensen. Leo –timmerman- hielp de lichamen bergen. Nu ontmoetten wij elkaar in de kroeg en dronken bier, praatten over schilderkunst en zongen. Francesco, advocaat -en muzikant- nam me mee naar de kerk waar ik de koorleider en zijn zus ontmoette. En met Monika zocht ik de oude naaister op; ze was al twaalf jaar niet buiten geweest en vertelde ons al werkend, het verhaal van Maria Basile.
Iedereen in het dorp helpt mee deze people's opera te maken. We spelen 'm op het plein en zelfs de burgemeester vindt het mooi! Ik voel me thuis, en maak er een klankdoc van.

Under the Volcano, a mini opera on the Life of MariaBasile
…is als radioplay verkrijgbaar in een speciale editie, met originele drukken van de ter plekke gemaakte linosnedes, een kleurig silvestri-etiket en het libretto van de opera, met illustraties van de straat van de levenden.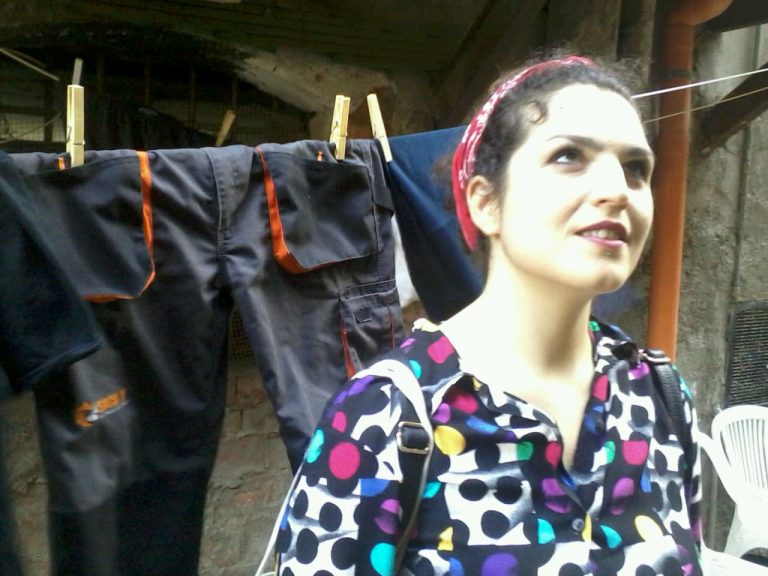 … I repatriated Vincenzo -my second hand guitar- to Catania, where it once was built, arriving with Dylan Thomas in my bag and Cornelius Cardew on my mind. It had been ten years, since mud came down from the mountains, killing people. When Leo, the woodworker, had helped securing the dead bodies. Working hands. We meet in Angelo's bar, have a beer, talk art and sing.
Francesco, as much a good lawyer as he is a gifted musician, takes me to church, to meet the choir leader and his sister, a violinist. With Monika I visit the old seamstress, who hasn't left her house for more than twelve years now; I draw her. She shares with us the story of Maria Basile.
The whole village helps making a people's opera. We play it when night falls. Next to Maria's monument. And even the mayor likes it. These people seem to know a lot about live, about the freedom to live it, and its preciousness, its vulnerability. They make me feel at home. I love the nespole that Turi gave me in an old newspaper. And I loved to make this radio play.
Opgenomen, ge-edit and gemikst door Hans (Hansko) Visser op Sicilië, in Amsterdam en in Groningen. Mose Previti, Rosaria Sfragara, Giulija Deval, Asbesto Zavieri, Monika Kreiss, Cettina deBenedetto, Christiano, Federico Bonelli, Martina, Francesco, Giorgio, , Ezio, Leo, Martina, Claire, Samuele, Turi, the Mayor of Messina en Laetitia, het meisje: allen droegen bij aan deze people's opera, in Giampilieri, april 2018. Met dank aan Trasformatorio, dat 't liet gebeuren!